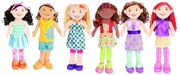 Groovy Girls are a doll line produced by Manhattan Toy beginning in 1998. The multi-cultural dolls represent children of all races, and they all exhibit a variety of hairstyles and retro-styled, "groovy" clothing. These soft-bodied dolls are sold in specialty toy stores around the world, and no two characters are alike. Groovy Girls are not only limited to just girl dolls - Groovy Boys have been made as well.
Ever since their humble introduction into the vast world of toys, they have been extremely popular with children, teens, and adults alike. While they reached their peak of popularity in around 2004-2008, when the "Main 6" characters (whose names spell out GROOVY) represented the line, they still continue to be popular today and thus, new dolls to add to the line continue to be made every year.
Not only does the line consist of dolls, but accessories and fashions for the dolls are sold as well. The accessories range from beds to furniture to even horses the dolls can ride.