ROKENBOK Toy Company
Real Construction and Real RC


The Construction System with Radio Control Action!
Manufacturer
[Rokenbok]




Age range
6 and up

Pros
If you can imagine it, you can build it.

Cons
Small parts that go together to take up big spaces (also a pro).

Description
Rokenbok is the construction system with radio-controllers that is toy that's fun to build and ready to drive. Best of all, the creator is control of the action.
Rokenbok is a company located in Solana Beach, California, U.S.A that makes a lego-like block construction set combined with innovative remote control (RC) vehicles that interact with the construction set.
The Rokenbok system consists of various types of construction elements (basic building blocks, roads, monorails, bridges, etc.) that snap together together in ways limited only by one's imagination. In addition, there are both RC vehicles and RC construction elements (elevators, cranes, etc.). One of the more interesting aspects of Rokenbok is that one child can simultaneously control up to 8 different RC devices from the same controller. This allows children to switch between controlling different devices as they dynamically create their narrative during play.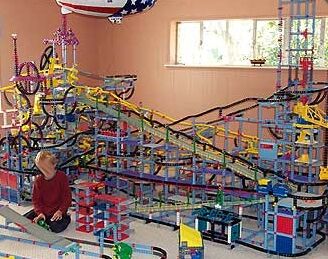 Like Lego, the construction
From Rokenbok's official home page:
The Rokenbok Toy Company was founded to create a "Legacy Quality" toy system focused on creativity, imagination, and learning. Supported by the best of today's modern design and manufacturing technologies, the Rokenbok System unites state-of-the-art technology with classic toy design and old-world values.
Community content is available under
CC-BY-SA
unless otherwise noted.